Purveyor of Vintage Books & Pop Culture Memorabilia for Over 24 Years!
RECORDS & MISC. AUDIO RECORDINGS • 7" VINYL • SPOKEN WORD & INTERVIEWS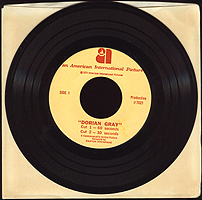 Dorian Gray Radio Ad Spots (1970) $12.00
Directed by Massimo Dallamano.
Starring Helmut Berger, Herbert Lom and Maria Rohm.
One-sided 7" record that includes two different radio ad spots, one 60s and one 30s.
American International Pictures [First Pressing]
Vinyl is Near Mint.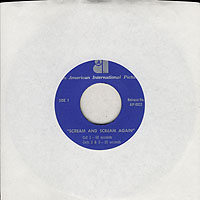 Scream and Scream Again Radio Ad Spots (1970) SOLD
Directed by Gordon Hessler.
Starring Peter Cushing, Christopher Lee and Vincent Price.
One-sided 7" record that includes three different radio ad spots, one 60s and two 30s.
American International Pictures #AIP-6922 [First Pressing]
Vinyl is Very Fine. (Very mild scuffing.)
---
---

Copyright © 2001-2015 by The Trash Collector • Updated October 2015