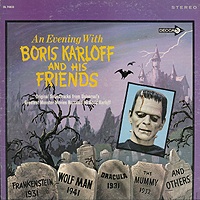 An Evening With Boris Karloff and His Friends LP (1967) $24.00
Includes soundtrack excerpts from Universal's monster movies, narrated by Karloff.
Written and produced by Forrest J Ackerman of Famous Monsters of Filmland.
Decca Records #74833 [First Pressing]
Vinyl is Very Good Plus. (Mild scuffing/surface scratches.)
Sleeve is Very Good. (Edge wear.)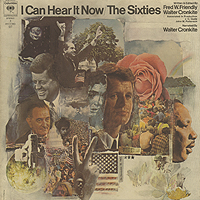 I Can Hear It Now: The Sixties Spoken Word Compilation Triple LP (circa 1970s) $10.00
An overview of the 1960s edited and written by Fred W. Friendly and Walter Cronkite.
Boxed set includes a fold-out insert.
Columbia Records #M3X-30353 [First Pressing]
Vinyl is Near Mint.
Box is Very Good Plus. (Some edge wear to back of box, otherwise nice.)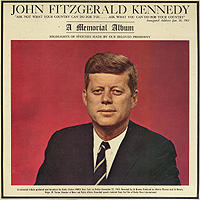 John Fitzgerald Kennedy A Memorial Album LP (1963) $10.00
Highlights of Kennedy's speeches for a tribute broadcast by WMCA on November 22, 1963.
Premier Albums, Inc. #2099 [First Pressing]
Vinyl is Near Mint.
Sleeve is Near Mint.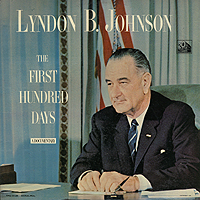 Lyndon B. Johnson The First Hundred Days LP (1964) $5.00
Includes numerous speeches given between November 22, 1963 and January 20, 1964.
20th Century Fox Records #TFM-3145 [First Pressing]
Vinyl is Very Fine.
Sleeve is Very Good. (Corner wear, punch label on lower right corner of cover.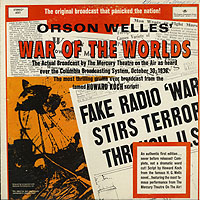 Orson Welles War of the Worlds LP (circa 1960s) SOLD
"The Actual Broadcast by The Mercury Theatre on the Air as Heard Over the Columbia Broadcasting
System, October 30, 1938. The Most Thrilling Drama Ever Broadcast from the Famed Howard Koch Script!"
The Longines Symphonette Society #4001 [Pressing Unknown]
Vinyl is Near Mint save for a couple of small scratches Side One.
Sleeve is Very Fine (mild rub damage) save for name written in pen on upper right corner front cover.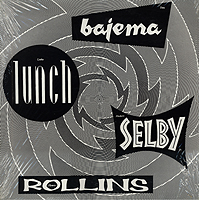 Our Fathers Who Aren't In Heaven Spoken Word Compilation Double LP (1990) $20.00
Includes seventeen tracks by Don Bajema, Lydia Lunch, Henry Rollins and Hubert Selby, Jr.
LSR Records/Widowspeak Productions #WSP 25 [First Pressing]
Vinyl is Mint. (Still sealed.)
Sleeve is Mint.
Whales Alive LP (1987) $16.00
Includes the sounds of humpback whales accompanied by music and poetry.
Narrated by Leonard Nimoy.
Living Music #LM-00013 [First Pressing]
Vinyl is Near Mint.
Sleeve is Fine Plus.