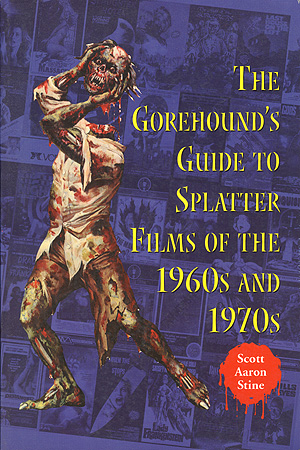 THE GOREHOUND'S GUIDE TO SPLATTER
FILMS OF THE 1960s & 1970s
• (2001) • 296p •
$35.00
Published by McFarland & Company, Inc.
Also available from Amazon.com.
Editorial Review from Amazon.com: "For the uninitiated the author has obligingly supplied a definition for the slasher/splatter film: Any motion picture which contains scenes of extreme violence in graphic and grisly detail. For those film viewers who think this is a good thing and are more likely to select The Texas Chain Saw Massacre than The Remains of the Day, or for those who are not quite sure but are nevertheless drawn to the phantasmagoric, or for those horrified by gratuitous violence and blood for blood's sake but are researching this filmic phenomenon, this reference book provides all the gory details. From At Midnight I'll Take Your Soul Away to Zombie 2: The Dead Are Among Us, this book is an exhaustive study of the splatter films of the 1960s and 1970s. After a history of the development of the genre, the main meat of the book is a filmography. Each entry includes extensive credits, alternate names and foreign release titles; availability of the film on videocassette; availability of soundtracks and film novel- ization; and reviews. Extensive cross-referencing is also included.
Editorial Review from The Horror Geek: "While it's not quite a perfect book, there's no doubt that The Gorehound's Guide to Splatter Films of the 1960s and 1970s is one of the best guides of its kind. This is an indispensable guide for fans of splatter cinema, filled with articulate and entertaining reviews of films that rarely get any kind of critical respect. Hardcore gore fans will undoubtedly be familiar with the majority of the films covered, but newcomers to the world of gruesome cinema will find a book that helps them separate the wheat from the chaff. Here's to hoping the future installments in this series will be just as impressive."
Click Here To Order The Gorehound's Guide to Splatter Films of the 1960s & 1970s from McFarland
Click Here To Order The Gorehound's Guide to Splatter Films of the 1960s & 1970s from Amazon.com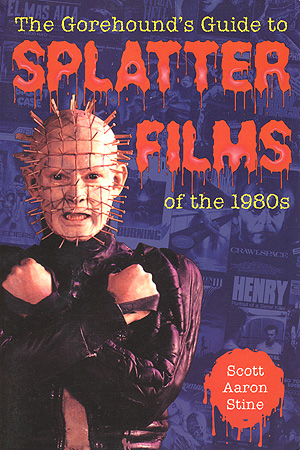 THE GOREHOUND'S GUIDE TO SPLATTER
FILMS OF THE 1980s
• (2003) • 390p •
$35.00
Published by McFarland & Company, Inc.
Also available from Amazon.com.
Editorial Review from Booklist: "Splatter film and its half brother, the slasher, may appear synonymous to the uninitiated, but these volumes attempt to sort out what makes each genre unique. Splatter films have been around about forty years and still do not enjoy high status. The sequel to Stine's The Gorehound's Guide to Splatter Films of the 1960s and 1970s treats about 500 1980s titles, what Stine calls "the childhood days" of splatter films, which featured more special effects and more literalism. Most are U.S. productions, but a few European titles are covered. Entries are listed alphabetically and range in length from a half page to two pages. Technical information includes director, crew, cast, length, release date, variance in titles, distributor, and distribution forms. Plot is described briefly, with extensive commentary and back- ground providing most of the text. The author is a "reel" aficionado and strong in his opinions (e.g., "a disgusting, albeit riotously funny, splatter flick"). Readers should not expect objectivity; rather, they can count on passionate interest. Extensive cross-references help the reader find films listed with different titles. A list of sources for DVDs and videocassettes follows the film entries. The index is extensive. About 100 black-and-white photos from movie posters and film clips supplement the text. According to Armstrong, author of Slasher Films: An International Filmography, 1960-2001, Alfred Hitchcock's 1960 film Psycho was the seminal slasher film. The prototype slasher film is defined as one that combines: an introductory murder or predictive event; a setting that does not inspire terror; visualized killings; a human or humanlike killer; systematic, thematic killing; and an unhappy or unresolved ending. Armstrong's well-developed introduction provides examples for each of these elements, and he uses the criteria to select more than 150 representative films, most of them U.S. made. The classics are found (e.g., Scream, The Texas Chain Saw Massacre), but lesser-known films are also given good coverage. Entries are arranged alphabetically by English title and vary in length from one to three pages. Information includes date, screenwriters, directors, film company, length, cast, and crew; a very detailed plot outline follows. A final paragraph gives the author's critique of the film's role in the genre. Writing is straightforward and generally objective. A few black-and-white photos provide a sense of the genre. Separate appendixes list slasher directors and screenwriters. The index is minimal. These two titles overlap somewhat in coverage (both cover the Friday the 13th and Halloween series, for example), although Stine is much more opinionated. Both are recommended for libraries with relevant collections.
Click Here To Order The Gorehound's Guide to Splatter Films of the 1980s from McFarland
Click Here To Order The Gorehound's Guide to Splatter Films of the 1980s from Amazon.com