Here are a number of links to related websites that may interest fans of
Nightmare Theatre
.
Or they may not. Check them out if you have some time to waste... what have you got to lose?
---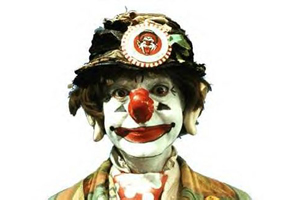 THE OFFICIAL J.P. PATCHES WEBSITE
w w w . j p p a t c h e s . c o m
Chances are great that, if you were a fan of
Nightmare Theatre
in your youth, you were also a fan of--or were at least familiar with--
The J.P. Patches Show
, which was directed by and occasionally featured Towey as one of the show's many eccentric character actors. Not only was this the longest running children's programs at the time it aired its last show in 1981, it still boasts one of the largest cult followings even though it hasn't produced a new episode in over twenty-four years. If you have any fond memories of
The J.P. Patches Show
, I strongly suggest that you visit the site in order to relive some long overdue magic. (And, if you have a couple of extra bucks, Chris "J.P. Patches" Wedes offers some cool Patches-related memorabilia for sale, including the
J.P. Patches Memories
VHS which includes the only available footage of
Nightmare Theatre
, from a posthumous Halloween special aired in 1978.
---
ROBERT "DR. ZINGRR" SMITH
w w w . r o b e r t o s m i t h . c o m
Although I never had the opportunity to catch Channel 13's horror host Dr. ZinGRR (1971-1976) because of the poor reception in my area, many Nightmare Theatre fans will have and may have similarly fond memories of him. Even if you don't and--like me--had absolutely no clue that another Washington horror host even existed during the time when
Nightmare Theatre
prevailed in the region, check out Robert "Dr. ZinGRR" Smith's website so you can get some idea of what you may have missed.
---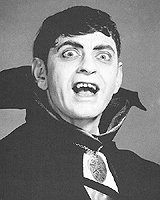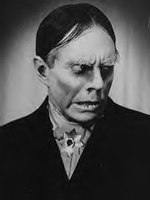 THE DR. SAN GUINARY WEBLAB
h t t p : / / w w w . d r s a n g u i n a r y . c o m / l i s t . h t m l
EGOR'S CHAMBER OF TV HORROR HOSTS
h t t p : / / m y w e b . w v n e t . e d u / e - g o r / t v h o r r o r h o s t s /
A GALLERY OF FAMOUS, INFAMOUS, AND NOT-SO-FAMOUS TV HORROR HOSTS
h t t p : / / w w w . g e o c i t i e s . c o m / T e l e v i s i o n C i t y / 3 2 5 7 /
SCARY MONSTERS TV HORROR HOST RESEARCH PAGE
h t t p : / / w w w . s c a r y m o n s t e r s m a g . c o m / h h _ l i s t . h t m
TV'S GREATEST HORROR HOSTS
h t t p : / / g . we b r i n g . c o m / h u b ? r i n g = j e e p e r s r i n g
For those interested in the horror host craze as it pertains to the entire United States and not just the Pacific Northwest, check out these other websites as primers or excellent resources to The Count's innumerable pasty-faced peers. Although some of the information is scant and/or erroneous as it pertains to The Count (I can't vouch for the others), these websites are exhaustive in their breadth and will tickle the fancies of most older horror fans.
---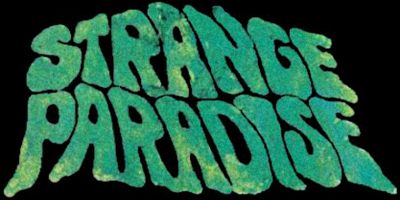 UNOFFICIAL STRANGE PARADISE WEBSITE
w w w . m a l j a r d i n . c o m
UNOFFICIAL STRANGE PARADISE WEBSITE
w w w . s t r a n g e p a r a d i s e . n e t
Those individuals who stayed up late to watch
Nightmare Theatre
towards the latter half of 1970 may remember this gothic soap opera,
Strange Paradise
(1969-1970), filling the slot usually reserved for the second half of the program's creature feature double-bill. Inspired by the American hit
Dark Shadows
(1966-1971), this engaging daily was similarly steeped in the supernatural, and was popular enough during it's extremely short run to spawn a series of paperback novelizations penned by prolific gothic writer Dorothy Daniels. These wonderful websites pay tribute to this series, and offers fans a potpourri of
Strange Paradise
references and trivia, from extensive episode guides to televised bloopers. Like
Nightmare Theatre
,
Strange Paradise
is a part of our television heritage that should not be forgotten.
---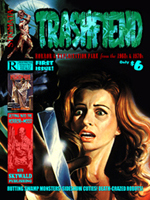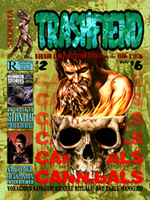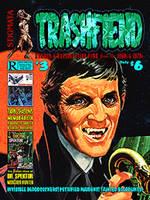 TRASHFIEND: HORROR & EXPLOITATION FARE FROM THE 1960s & 1970s
w w w . s t i g m a t a p r e s s . n e t
For those interested in more in-depth information on obscure or low budget horror films from the 1960s and 1970s, I also self-publish a magazine devoted to them called
Trashfiend
. (It is currently on hiatus as I have been working on an annual
Trashfiend
book for a respectable publisher.) Also covered are other aspects of horror fare from these two decades, including comics, magazines, books, toys and the like. Subjects in the first three issues include Skywald Publishing, Aurora model kits, cannibal cinema, Stanley Publishing, the
Shrunken Heads Apple Sculpture
kit, gothic horror cinema,
Dark Shadows
,
The Occult Files of Dr. Spektor
, as well as interviews with Michael Berryman and Donald F. Glut. This magazine was preceded by
GICK!
, a primitive fanzine that focused more on films, many newer. Back issues of these publications are still available, although supplies are running low on many issues.